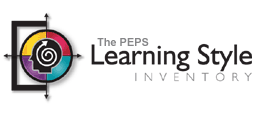 The comprehensive Productivity Environmental Preference Survey (PEPS) identifies 20 different components of learning style. It identifies the conditions under which an adult is most likely to produce, achieve, create, solve problems, make decisions and learn in occupational or educational activities. These are the 20 factors identified by the PEPS:
Immediate Environment

Emotional Factors

Motivation

Responsibility

Persistence

Structure or Flexibility

Sociological Needs

Alone or peer oriented

Authority oriented

Flexible

Perceptual Preferences

Auditory
Visual
Tactile
Kinesthetic

Physical Needs

Intake
Evening/Morning
Late morning
Afternoon
Mobility
The PEPS is integrated into the online e-text, CollegeScope, and is available for use with the printed text, College and Career Success, by using the online access code printed on the inside front cover of the text.
The PEPS has been researched and developed for 30 years by Gary Price, Professor Emeritus, University of Kansas.
How to Administer and Interpret the PEPS
Click here for classroom exercises related to learning style.